The football potentates are on fire (mostly) ripping the Philadelphia Eagles for trading up in the draft presumably to take Carson Wentz.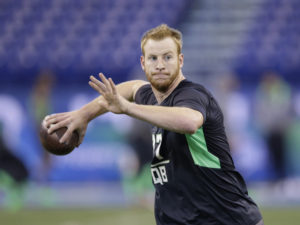 Wentz is a big, strapping quarterback, 6-foot-5 and 237 pounds. He is also a North Dakota native who played his college football at North Dakota State, a school that plays at what used to be called the Division I-AA level, now the Football Championship Subdivision. That's where William and Mary and James Madison play, and where Old Dominion used to play till a couple of years ago.
Therein lies the double-edged problem that has the potentates all agitated: North Dakota, and the lower level of competition. The potentates — people in general — fear the unknown. The FBS and North Dakota are frighteningly unknown, on the scale of the FBS and say, South Dakota.
To the average American, I will pontificate that the word Dakota conjures either images of the young actress Dakota Fanning or images of great acres of nothingness. Wilderness. Wild beasts roaming the foothills and whatnot. Cowboys clomping down wooden sidewalks, spurs clacking, toward the saloon for a Sarsaparilla and perhaps a random gunfight.
Nobody has been to North Dakota. Nobody knows anybody from North Dakota. North Dakota may as well be the surface of Mars. Greater Norfolk, or what potentates around here call Hampton Roads (to my constant chagrin) has roughly twice the population of North Dakota, for cryin' out loud.
Now, North Dakota State happens to play incredible football – at the FBS level. The Bison have won five consecutive FBS national titles. That is a record. No college football team at any level had ever won five in a row.
Wentz led the last two championship runs. Then he went to the NFL Scouting Combine and, according to a league executive quoted on NFL.com, "really blew us away when we met him. Talent is a big component, but these guys have to have intangibles if they are going to lead franchises and he's got them. I don't care where he played, he understands the game and it isn't too big for him."
Patience is always preached for rookie quarterbacks. But the idea of asking Iggles fans for patience on top of asking them not to fear the dark and to have faith in a front office that's gone through huge recent upheaval is frying a lot of circuits in what they used to call the Greater Delaware Valley, where pro football buoys everybody's miserable existence.
Me, I am going to lean to the under-populated (like North Dakota) opinion that Wentz (presumably the Iggles' pick) will make sense for the Birds. And that potentates I came to trust over my sports-chronicling years, who rave about Wentz, are right to not let Dakota-phobia influence what their eyes and professional intuition have told them.
I shall not fear from whence the QB comes.