Rambling between naps and meals at the OBX . . .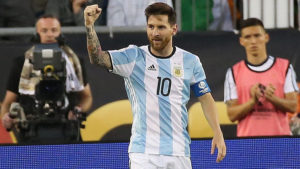 How about that Messi, huh? How about me raving about soccer, huh, huh, huh? Actually, I rave about just one play from Argentina's 4-0 rout of the U.S. in Tuesday night's Copa America semifinal in Houston, the free kick the great Lionel Messi rocketed into the upper right corner of the goal to give his team a 2-0 lead. It was such a feat of talent, skill and casual athletic brilliance I couldn't believe for a while what I had seen.
You may know, if you can't already tell, I am a very late comer to an appreciation for soccer. I dare say I am even a reformed soccer mocker. I never got it as a kid, never watched it as a young adult, never believed (and actually still do not believe) in its constantly forecast elbowing in to the American pro sports landscape on par with football, baseball, basketball, hockey, NASCAR, and even golf.
But something has happened in the last year, akin to a pixie doinking me on the head with a magic wand. Soccer strayed onto my radar of attention. It remains a blip in the distance, yes, but it is there, blinking "Come on, man, look at me!," which I now do from time to time. Why? Because when Dee and I visited Barcelona last summer, she noticed a sign on the street teasing tickets for an FC Barcelona game a few days away and said "Hey, let's go!"
I was sort of aware FC Barcelona, and Messi, were a big damn deal in Euro and world soccer, but that was really the extent. Camp Nou, the team's famous cavernous stadium? Didn't know. Didn't really care. And yet I was nonetheless certain in my conviction when I scoffed and told her that game with Athletic Bilbao – part of the Supercopa de Espana finals — was sure to be sold out already and don't even bother asking about tickets.
Clearly intimidated by my confidence, she strode to the ticket window anyway, the girl at the counter pointed to two upper-deck seats smack in the middle of the field, and, well, there you go. A couple of nights later we bobbed in the sea of Barcelona jerseys that streamed into Camp Nou to watch the fabled Catalans, led by the Argentinian star Messi, play their thing amid a thunder of steadily rising and falling calls and cheers.
Sure enough, Messi scored the first goal, the only Barcelona goal, it turned out, in a 1-1 tie that gave the series title to Athletic Bilbao via goal differential.
And so I was intrigued. Not quite smitten. But interested enough to learn about and follow one of the great world sports stories — of lowly Leicester City winning the Premier League. To track the evidently fading star of USA coach Jurgen Klinsmann. To get the dishes loaded and sit at the beach house in time to watch a telecast of USA soccer braying in vain against Argentinian royalty.
Even at this late date, I feel much more the global citizen for my toe-dip into world futbol. And when is that not a good thing? Thank you, Dee. Thank you, Messi.
Also …
It's days later, OK, but here's my take on the Dustin Johnson rules-violation fiasco at the U.S. Open perpetrated by the USGA. This suggestion goes for the PGA Tour, too.
If ever video review of a potential rules violation is required, make the reviewed player stop wherever he is. Start the clock. Review the potential violation in three minutes. Five tops. Make a final decision. Announce it to the player and to everybody else.
The NFL does it. MLB. NHL. NCAA hoops. Why is video review a Rubik's Cube for golf?
It is a joke that Johnson was told he'd be reviewed on the 12th hole for something that had occurred on the fifth hole – his ball moving on the green after his practice strokes — and then the decision wasn't made, or at least announced, until after the 18th In what world does all that sound like a good idea? Johnson, and the players chasing him, had to play that entire time uncertain of Johnson's lead. Four strokes? Maybe three? That certainly is a distraction, clouds thinking and potentially affects strategy on every shot. It's unbelievable the USGA allowed the process to unspool in that manner.
The rules of golf are the most convoluted in the world as is. Turning the review of them into a twisted and embarrassing mess as did the USGA negatively impacts the game far off its mission to grow and nurture it.
Kudos to Johnson for sticking his shots and winning comfortably, and by doing so, telling the USGA where to stick its archaic video review system.