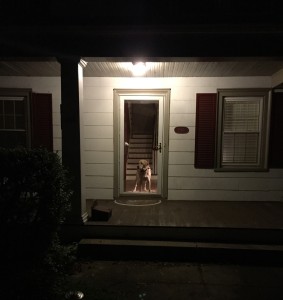 It is coming on six years that Ollie and I have been together.
So I guess he really is about 10 now. The pups don't come with papers from the humane society. They took a guesstimate of about 4. Sounded good enough for me.
We should take more pains to remind people what we think of them. The same applies to pets, of course. So I scratch Ollie's ears and tell him I don't know how I'd have gotten through the last six years without him.
I don't know that he understands. I like to think he does, and that it's not just all about the cookies.
I realize Ollie, my first dog, has been the one constant in a long period of change — flux? — that continues still. Departures have left the house quiet. Life arcs have altered completely. New relationships have sprung through the fallen leaves like rogue bulbs, promising all can and will be well.
Ollie holds steady. He wants to walk and sniff and chase the ball through the field. He wants to rough-and-tumble in the den. He wants to nudge me awake because it's time to eat, and let's go already! He wants to meet me at the front door every night. He wants to curl on the rug and listen to my guitar or warm his 10-year-old bones by the gas fire.
These things I know are true. These things I know are a welcome anchor. These things I could not do without. These things I thank him for every day, because it's what you do when you call roll of the blessings in your life.