This was fun.
I'd seen Garrison Keillor "perform" before, but this was a casual reading at the Old Dominion Literary Fest.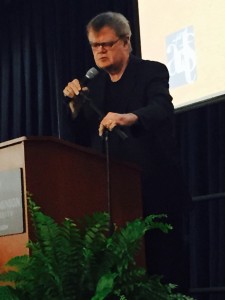 As everybody hoped — everybody being about 700 people in the Big Blue Room at the Constant Convocation Center — Keillor rambled and ad-libbed and during it all seamlessly worked in readings of favorite poems and sonnets and memoirs, all delivered in the homespun deadpan fans of his radio show "A Prairie Home Companion" have admired since 1974.
Keillor, 73, is retiring from the show next summer, he says. Letterman. Stewart. Keillor. Giants leaving the broadcast industry within the general proximity. It was great to sit in the front row and listen to Keillor be Keillor, because you never know how long  he's going to do that now for public consumption.
I wrote the following brief review for the ODU news website I help populate every day. It doesn't include some of Keillor's bawdier bits, although none included the "F" word. He is incapable of uttering it, he said., due to his upbringing and sense of propriety. That was clear Minnesota truth, don't ya know, on another night on which Keillor told tall, sardonic and very funny tales.
——————————————————————————————————————————————————-
Author, humorist and radio host Garrison Keillor regaled an appreciative audience with sonnets, limericks, and passages from his in-progress memoir – as well as winsome tales from Lake Wobegone – on Monday during his appearance at Old Dominion University's 38th Annual Literary Festival.
"I don't go to my Episcopal church anymore," Keillor told the crowd of 700 in the Big Blue Room at the Constant Convocation Center. "They got a new rector who thinks he is the emcee of a variety show. As the emcee of a variety show, I don't see it that way."
Keillor, 73, will retire next summer as host of "A Prairie Home Companion," the popular National Public Radio program he has hosted since 1974.
"I'll try to tie up the loose ends from Lake Wobegone, and in the fall there will be a new host," Keillor said at the close of his hour-long appearance. "Then I'll look forward to listening to the show."
In his trademark deadpan speaking style, Keillor shared passages from the memoir he is writing: "I have discovered I had a really happy childhood, which I had not known before."
To applause, he rattled off the "87 counties of Minnesota," which Keillor said he memorized in 5th grade and raced through recently for doctors to prove his acuity after a health scare.
He also recited what he called the perfect, and only, limerick on the word Syracuse:
"There was an old singer of Syracuse
Who was startled to hear his old dear accuse
Him of rushing and slurring
And thereby obscuring
The words that the writers of lyric use."
"That's a monumental piece of work," Keillor said. "What good does it accomplish, I don't know."
Keillor also shared a few of his favorite sonnets, noting: "I have an obligation to write sonnets because I am an English major."
But on a more serious note, Keillor described his love for composing sonnets like "Supper," which reads in part:
"It was beautiful, the candles, the linen and silver,
The sun shining down on our northern street,
Me with my hand on your leg. You, my lover,
In your jeans and green T-shirt and beautiful bare feet.
How simple life is. We buy a fish. We are fed.
We sit close to each other, we talk and then we go to bed."
"To make one's imagination live within 14 lines of iambic pentameter, with a certain rhyme scheme, is a challenge worthy of an English major," Keillor said. "To take ordinary things and put them into a form that Shakespeare would recognize is a worthy way to spend an afternoon."