It was easy to start recollecting when the news came Wednesday of David Stern's death following a recent brain hemorrhage. Commissioner of the NBA for 30 years, Stern in 1984 took over a flagging league whose playoff games were broadcast on tape delay, for goodness sake — you can hardly even comprehend that scenario — and turned it into an international obsession.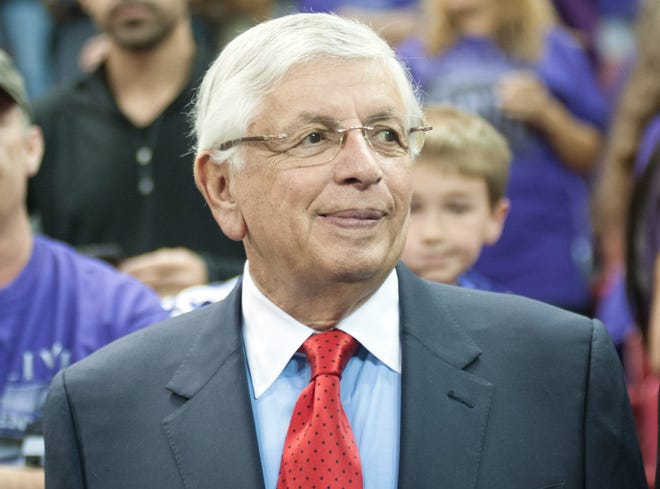 He was a clearly a great commissioner, and as I heard one commentator say Wednesday, his demeanor and governing philosophy was such that he was probably the most approachable sports commissioner ever.
He was a powerful star, but you could actually talk to him — and don't fall over, but you could actually joke with him, all casual-like.
I discovered this in my only dealing with him, some 20 or more years ago, when then-Norfolk mayor Paul Fraim was courting an NBA expansion team. As a local sports scribe, I attended a presser where Stern — I believe in New York — was commenting on NBA expansion and other hoops issues.
I wish I had clearer recall of the time and place. What I definitely remember is cornering Stern after the official news conference for a brief chat. That is, Stern made himself available for anyone afterward to answer questions in an informal setting, which seems pretty remarkable today.
So after standing by till he was through with others, I cautiously approached and introduced myself as being from Norfolk. He replied with a smile and a quick joke referencing Norfolk's aborted ABA experience in the '70s, which immediately let me know he very much knew Norfolk — and that he very much knew Norfolk had no shot in the world to get an NBA team.
The larger point, though, is we continued to talk a couple more minutes, and he seemed fine with it. That gave me enough comfort and confidence that I eventually leaned in and, oddly emboldened, gently poked the lapel of his jacket with my index finger while asking a question.
What the … ?
Security should have swept in, ear-pieces blazing, wrestled me to the ground and turfed me out, a la the bruising ouster of Jimmy Stewart and Clarence from Nick's in "It's a Wonderful Life."
Believe me, I would have less-than zero shot at poking current NBA commissioner Adam Silver in the lapel, nor would I think to even attempt it. But Stern showed no consternation over my impromptu nonchalance, made his last comment, and I was on my way.
It's a cool memory and a true fact regarding Stern's overall persona. No doubt he was as tough and unyielding as you can get in business, which is why the modern NBA is what it is. But yep, he was poke-the-lapel approachable, which is one other small piece to consider when mulling the historic legacy of David Stern's life and heady times in the NBA.