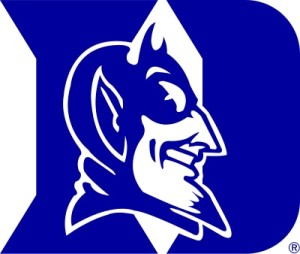 The day after claiming his 1,000th coaching victory, Duke's Mike Krzyzewski, battling sniffles, was back at the business of claiming No. 1,001. Or at least talking about it for a few minutes with media jackals.
His 17-2 Blue Devils (ranked fourth) play at Notre Dame (No. 8) on Wednesday night, the first top-10 clash on the Irish's court in 12 years. That little tidbit surprises me some, but that was the word on Monday's ACC coaches conference call.
With 1,000 down, Krzyzewski was asked how he'll get those Blue Devils to reboot and start the climb up the next mountain. "We're trying to figure that out," he said. "I think our team the last month has gone through some things other teams haven't gone through, because of all this (hype). It's a different journey. We've won the 1,000th game; what does that mean?"
Well, right away he hopes it means a mentally sharp bunch will win Wednesday before heading to Charlottesville for Saturday's big tilt with No. 2 and 19-0 Virginia at John Paul Jones Arena.
Coach K was benevolent as could be when asked about U.Va.'s Tony Bennett, fluffing him as "one of the truly outstanding coaches in the country." Hard to argue, considering the Cavaliers are an incredible 49-7 the last two seasons.
"He's lived the game since he was born and it shows," Krzyzewski said, noting the broad-leafed family coaching tree from which Bennett emerged. "He's just got a consistent, outstanding effort in preparation for each game. He has a great system, and he recruits to that system. And it appears he has great support from his university."
More platitudes ensued, but you get the drift. My friend David Teel of the Daily Press did draw some insight from Coach K, however, when he quizzed him on whether he thought U.Va.'s suffocating post defense might trouble Duke's stud freshman big man Jahlil Okafor.
Krzyzewski said Okafor, who averages 19 points and nine rebounds, meets collapsing double-teams with unfrosh-like poise, and gave an interesting hint as to why that fans can watch for.
"Part of it is he's got really huge hands, so he can pass out of it one-handed, which gives you a little more room," Krzyzewski said. "You're longer than you would be with two hands and wider in making your passes out. He can pass, and he wants to pass. He's made overall great decisions in handling that."
Then again, those passes are just pretty pictures if Duke misses an unhealthy share of the open perimeter shots that ensue. The Blue Devils shot 37 percent and 44 percent when they lost back-to-back games this month to North Carolina State and Miami, the latter by a ridiculous, for college hoops, 90-74 score. 90!
"So," said the Coach, "we have to help (Okafor) out by completing the play."
Truer words were never . . . well, you know.
7 p.m. Saturday. Enjoy the game.