As a sports writer, a golfer and an avid golf fan, I have been fortunate enough to cross paths and interview such hall of famers as Jack Nicklaus, Tiger Woods, Curtis Strange and Fred Couples.
Never, somehow, Arnold Palmer.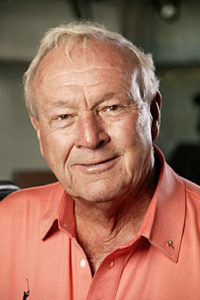 I'm sad about that one.
I've seen snippets from Palmer's funeral today, and the love and respect emanating from that ceremony was palpable. I've read retrospectives of Palmer as a golfer, a business-savvy professional athlete when no one else had the vision or guts to negotiate off the strength of their place and persona, a marketing genius, a father, grandfather, a philanthropist, course designer and a global citizen.
They eulogized Palmer as a pioneer, one of those naturally swashbuckling individuals who sucked the oxygen out of every room he entered, who schmoozed as easily with queens and princes as with gallery hounds of any age. Who men wanted to be and women wanted to be with.
I can imagine Palmer was one of those people who never met a stranger. Who greeted everyone, especially as his legend matured, with a wink or a kind word, fully aware that the moment being shared would be indelible for the one he was sharing it with. He could never have a down or an off moment, and I've never heard tell of that happening.
It chokes me up to see the video of his attempted last press conference at his last U.S. Open, at Oakmont near his Latrobe, Pa., home, in 1994. He couldn't get through it. Same for his final Masters, 10 years later.
This is a nice tribute the Golf Channel crew, including author John Feinstein, put together today.
Arnold Palmer made professional golf a behemoth through his magnetism, integrity and trailblazing athletic courage. God bless him. God bless The King.