This is one of my last feature stories I did for Old Dominion as a full-timer there. It's one of my favorites. And it's an example of some of the brilliant young people who come through the university. I saw that all the time. Stunning talent, achievement and potential in this world. Thanks for checking it out.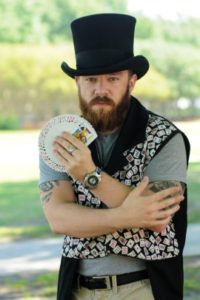 The half-dollar tumbled across Josiah Emery's knuckles like a brook over pebbles. It disappeared into his right palm, then bucking gravity, shot up into his hovering left palm.
Desperately trying to follow Emery's steady patter and slick fingerwork, an observer was dazzled moments later to see Emery's hands empty – and the coin perched on the observer's shoulder.
Emery flashed a Cheshire smile through his bushy beard.
"You have to hit an audience quick," said Emery, who has entertained as a magician and balloon artist for more than a decade. "If they don't like your first 10 seconds, they're probably not going to like you."
For his next trick, Emery will graduate from Old Dominion University on May 6 with bachelor's degrees in mechanical engineering and applied mathematics.
"Josiah is fun, he is bright and he is one of the best students I've had the last few years," said John Adam, professor of mathematics and statistics at Old Dominion. "Plus, he's a really good magician."
Emery regularly performs coin, card and balloon tricks at events like birthday parties, after proms and even before Monarch football games, where his mother, Christine, is a face-painting clown on Kaufman Mall. Emery picked up the entertaining bug from her as a child, but as a magician and balloon artist he is mostly self-taught.
And accomplished. Emery proudly shows off a thick photo book of his balloon animals and other figures, including his masterpiece, an intricate Star Wars X-Wing fighter plane that took him eight hours to complete.
"Balloons are connected to engineering in a way," Emery said. "I have a sort of photographic memory when it comes to balloons. If you know all the basic twists and you can see those parts in the completed figure, you can just reverse-engineer it in your head."
Looking forward, Emery will proceed in his quest to become an aerospace engineer at Georgia Tech beginning in August. The university awarded Emery a full scholarship and a $26,000 annual stipend to be a research assistant.
The valedictorian of his class at Churchland High School in Portsmouth, Emery entered Old Dominion with numerous Advanced Placement and college credits. He took two levels of calculus as a high-school junior and other advanced math at Tidewater Community College before arriving at ODU.
When he completed the requirements for his mechanical engineering degree in three years, Emery, whose father, Brian, is a retired Coast Guard warrant officer, added math as a second major.
In his "free" time, Emery is a ravenous reader – the classics to superhero comic books to a tome on math's "millennium prize problems" – and an active tutor. He noticed that the campus lacked an undergraduate tutoring lab for mechanical engineering students, so he helped start one.
"Josiah is an example that Old Dominion engineering gets top-end students on the same par as anywhere," said Colin Britcher, professor of mechanical and aerospace engineering.
"He's obviously as smart as anyone Georgia Tech is looking at, and that's one of the best engineering schools in the world," Britcher continued. "He helps other students in a way to see what's possible and what they can aspire to."
Emery does that not only by being academically brilliant, Britcher said, but by modeling enthusiastic communication skills. It's only natural, because his act requires a steady stream of stage banter.
That engages his audience. But it also distracts observers so that they never notice, for example, the half-dollar when it leaves Emery's hand and winds up on their shoulder.
"I like to tell a story with each trick; I don't want to just say 'Pick a card; is this your card?' " Emery said. "That's lame. If you set the presentation around the trick, it takes the heat off the thing you don't want people to think about."
Emery's intellect, eager curiosity and outgoing personality lead him to find fascination – even magic — in most anything he thinks about.
"I'm a little off the wall, I guess," Emery said. "But I think it's important to stay well-rounded."